This tutorial will only cover how to execute sewing bias tape onto a v-neck on a scrap piece of fabric. To see a full tutorial on how to make your own 1'' bias strips, visit tutorial "Making Your Own Bias Strips".  For a full tutorial on how to apply 1'' bias  facing to a crew neck or arm hole (closing a continuous loop), visit "Bias Facings For Necklines and Armholes." Helpful tools for this sewing technique include: a clear ruler, "frixion" pen or tailors chalk, pins, scissors for clipping fabric (I prefer a small pair with a fine point). I...
---
  WHAT Stay stitching is an important preliminary step to constructing your garment. A stay stitch is stitching along a raw edge of a single pattern piece in order to prevent stretching or neckline or armhole. WHY It ins't uncommon to skip this step when you are more experienced with a particular textile or garment, but it is definitely a good idea to stay stitch when you are constructing something for the first time, or are deciding to design/self draft your own pieces. This will allow you to critique your pattern without external factors such as fabric stretching affecting your...
---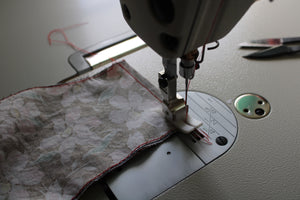 Sewing French Seams is a great sewing technique to have in your back pocket for finishing raw edges when you do not have access to a home serger. It can also elevate your garment quality especially with different types of silks and linens.   Typically when you sew a bodice together, you place right sides together and stitch the seam allowance. In this case the seam allowance of the Sun Day Tank is 5/8'' (about 1.5cm). When you sew a french seam, you will ultimately sew stitch lines per seams, so it will be a bit different. You will first...
---
The dart on the Sun Day Tank is a "Dress Maker size B" Dart. It is important to note that Dressmaker bust sizes are different than bra cup sizes. This is due to the fact that garments such as tank tops and dresses usually need to primarily fit your upper chest and bust measurements. You will notice the dart is slightly larger on the size 14-22 to help accomodate larger bust sizes. Since there is about 3 Inches of ease in the bust of this tank, there should be some flexibility on this tank fitting a variety of "dressmaker bust...
---
  Bias facings (also called bias strips/bias binding application), are a great way to finish off a raw edge of a garment, especially when there is no garment lining. This technique uses a 1'' strip, although many home sewers prefer using a pre-folded bias strip. Try both ways to ultimately decide your preference (this one is mine).   Prepare bias strips (your Sun Day Tank Pattern will have sufficient cut lengths for bias strips for armholes, crew necks, and v-necks. For a tutorial on cutting your bias strips, visit: Making Your Own Bias Strips . Make sure shoulder seams are...